Hex Key Actuation
---
This unit is a self-contained unit with limited travel for close tolerance applications. No external reservoirs or guns are needed for this unit.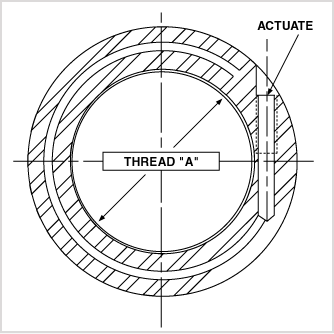 To put Jetnut on
---
Spin "Jetnut" on by hand until snug.
With hex key turn actuating screw clockwise engaging pressure.
To remove Jetnut
---
Using hex key, loosen actuate screw.
Tighten Jetnut reset pressure pad system.
Jetnut will now spin off by hand.
To refill Jetnut
---
Leave Jetnut snug against part.
Remove 1/4" cone point screw.
Insert #1698 alemite fitting into hole.
Pump grease into nut until pressure is felt in grease gun handle.
Remove alemite fitting and replace 1/4" cone point screw.